Baby Booster seat - Best investment I ever made going to Seoul
So prior to going to Seoul, we knew some of the best places to eat in Seoul are just not catered for kids needing high chair. As Foodie parents, we weren't going to let that get in the way of our food journey! So we visited our local baby store and bought a Baby Booster seat.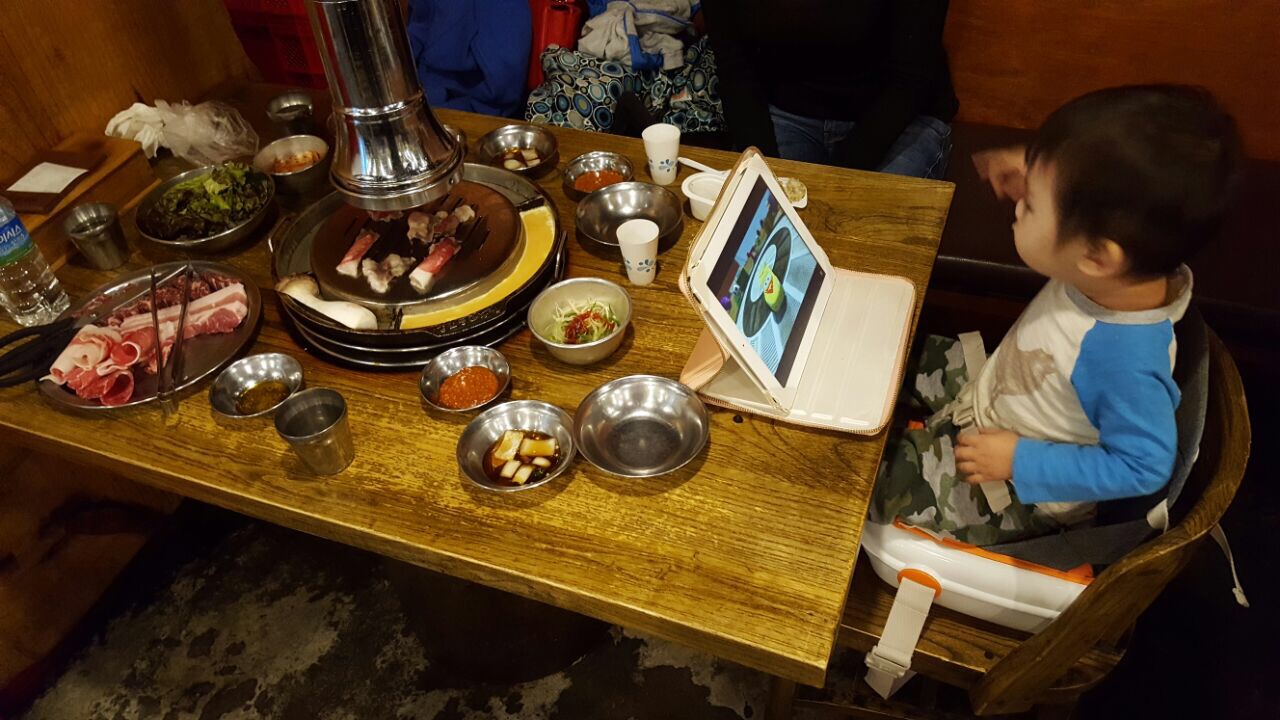 Baby friendly place - Baby Z in his booster seat at Baekjeong Korean BBQ. This restaurant does provide their own baby high chair.
I chose this baby booster seat for a few reasons:
It has an internal storage so it serves more than one purpose!
It is just the right size, not too big or small. Even fits in an ipad!
It has a back rest
It has a buckle for the bottom and the back/side of the seat. Though this booster still worked without being buckled as you can see on one of the Korean BBQ places with the long seats.
It is more versatile than the ones that clips onto the table. I just think the ones that clips onto the table may not hold Baby Z's weight and if it is buckled onto the chair, I can still move Baby Z further away from the table.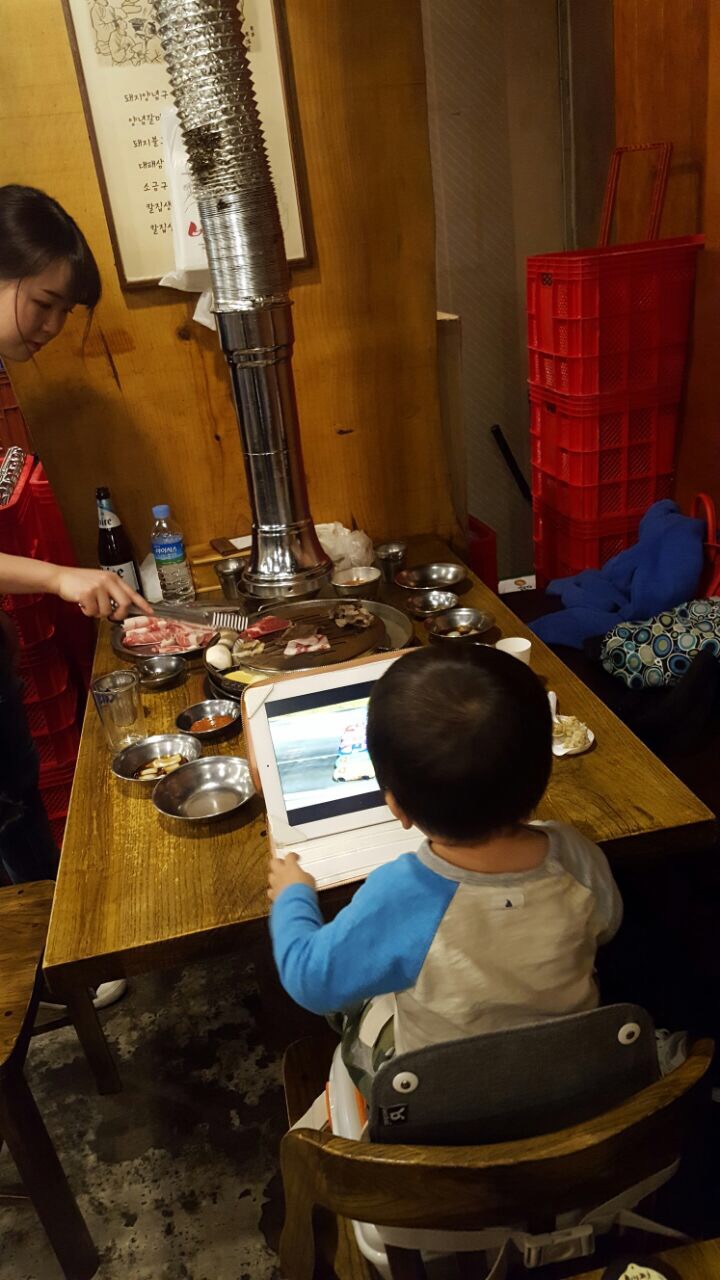 Baby friendly - Little Z can safely sit in Baekjeong BBQ while we enjoy our Korean BBQ
So, I would admit that when I bought it, we delayed using it. It was just sitting there in our hotel room still in its wrapping. Until one night (third night in Seoul) we were desperate for Korean BBQ and Baby Z was not napping during our dinner time. So my husband suggested we try out the booster seat. So we transferred all the backpack stuff into the booster compartment and off we went. Since then, we never used the backpack again. It was only when we were travelling between airports, that I used the backpack again as I no longer needed the booster seat. The backpack was easier on a plane as you can store more things into the backpack. The booster seat can store just enough for the day.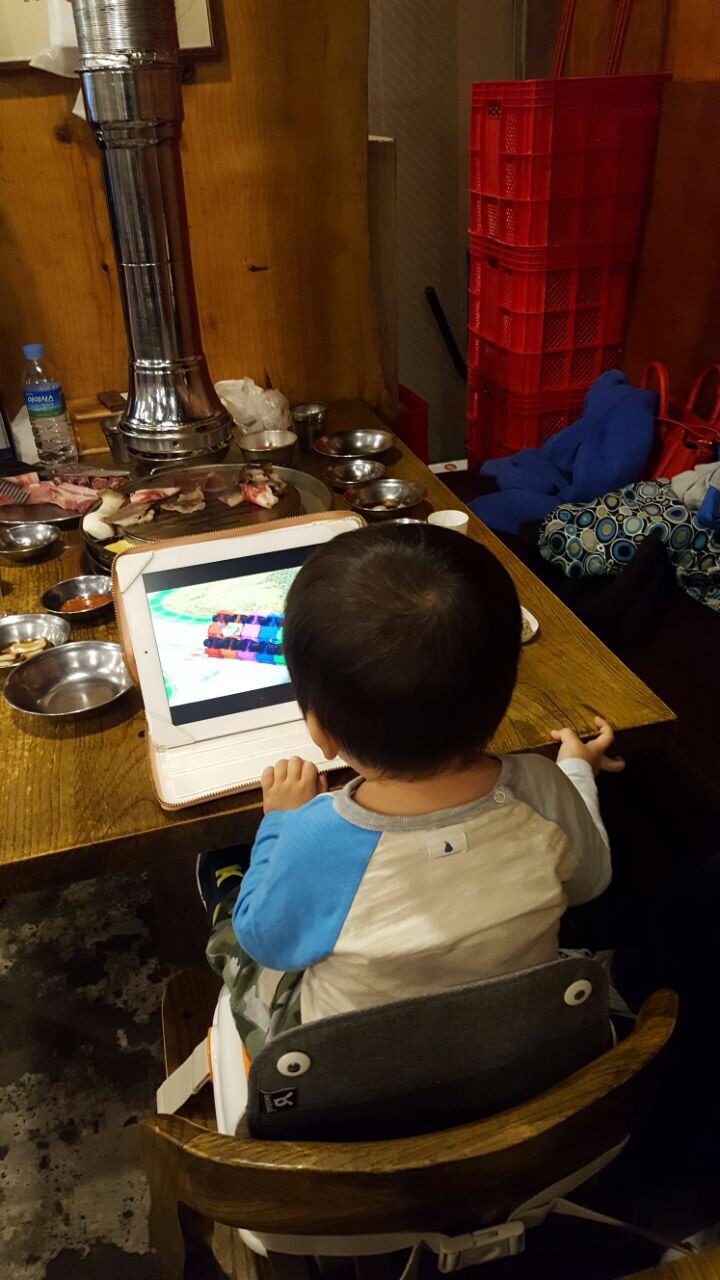 Our Booster seat used at Baekjeong Korean BBQ. Although they do have baby high chair.
 So what can I store in my booster seat:
About x2 to x4 nappies
Some snacks
One tub of his rice lunch pack from Yummimeal wrapped in a cooler bag
A spoon
Change mat
Large soft tissue pack
Nappy change wipes
Sticker fingers wipes
Disinfectant wipes for the table (Yes I carry three types of wipes)
ipad!
Nappy rubbish bags
A banana
A spare change of clothes for Baby Z
What I was unable to put in there:
His jacket
His water bottle -I either carry in my handbag or under his pram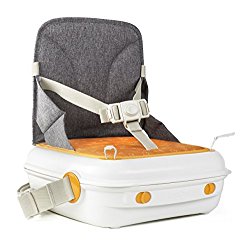 The way I carried the booster seat was I hanged it around the push handle like his nappy bags.
As for restaurants, the owners and guests were amazes to see us so prepared for it. I can see in their eyes they were a little worried when we entered the restaurants with a toddler as they were worried about high chairs. We did ask the first few times when we entered restaurants, but after a while we stopped asking and just set up out own. Our DIY baby seat was cleaner and we just saved the hassle of even the restaurant bringing one out if they had one. How did other parents deal with it? Well, we mainly saw really young babies so they would stay in their baby carriers and other kids were much older and does not need high chairs. Kids like Baby Z were nowhere to be seen as I guess they probably visit restaurants where it's more baby friendly. For us, we just "made it" baby friendly.
So really, I would recommend you invest in one if you are travelling to Seoul or any other countries who are not baby friendly. Even Hong Kong and Singapore in the smaller restaurants and markets. Because really, the best food places do not have high chairs! ?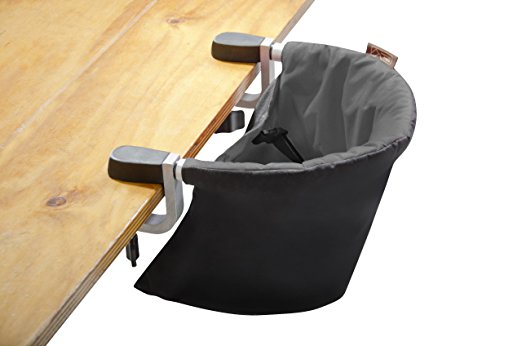 Not a fan of this. Might not hold Baby Z weight.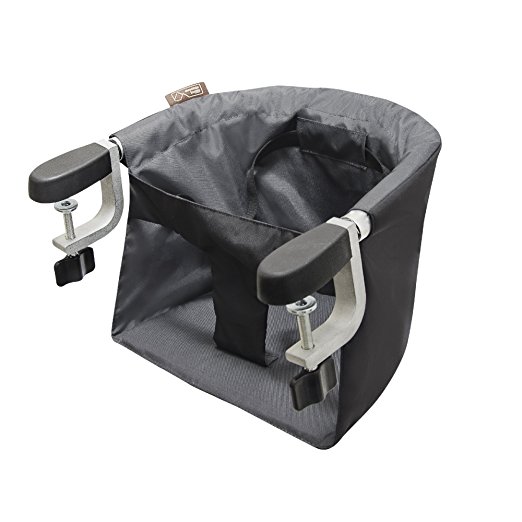 Not a fan. Extra thing to carry without another purpose.
Next Steps...
More Travelling Baby Tips? Visit my page of baby travelling tips to Seoul!